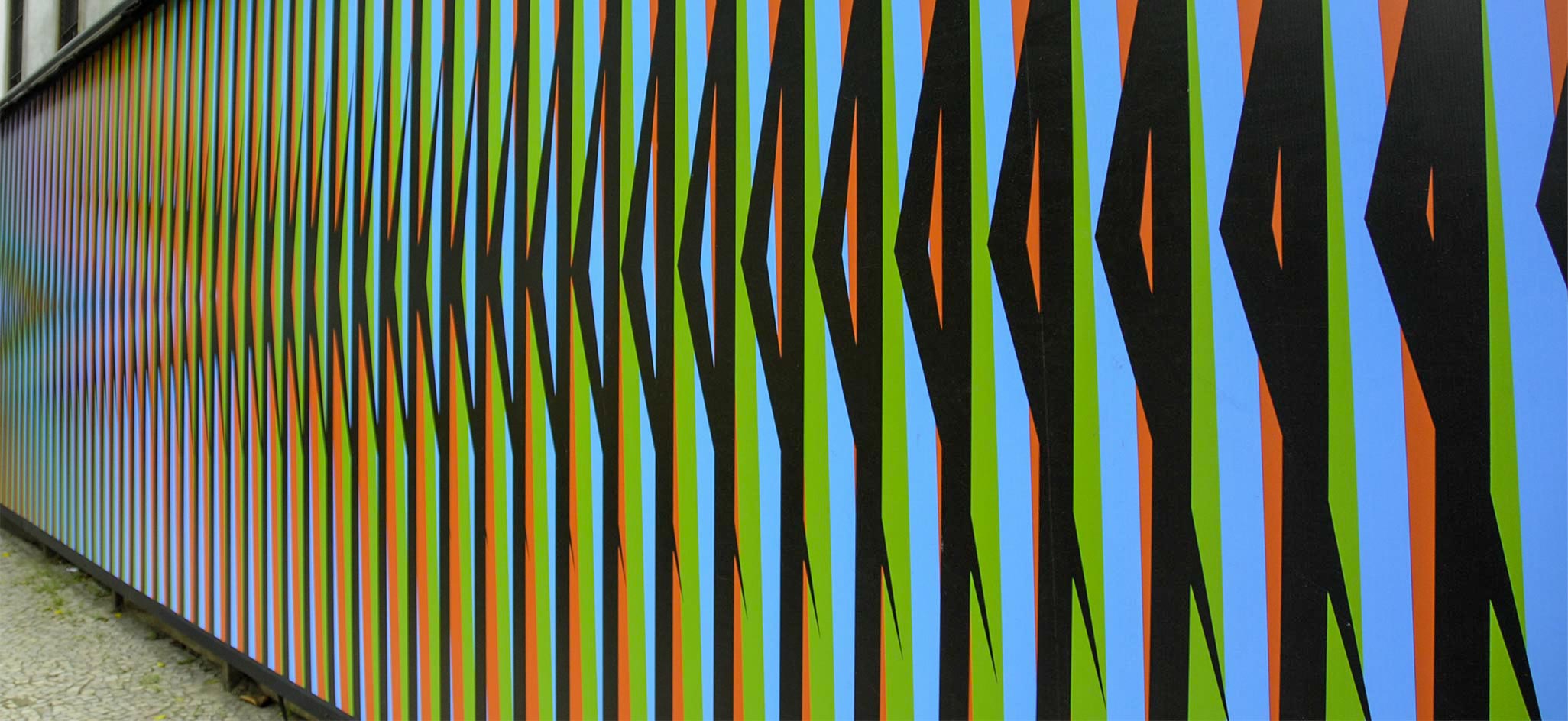 The

Induction Chromatique

(1963) is closely related to the phenomenon of "after image," or retinal persistence. In other words, the retina of the eye, after gazing at a red colored plane for a certain length of time, retains, even after it looks away, an image of the plane — in green; which is the induced color or complementary color.

The phenomenon previously described, takes place in two phases, however, the

Induction Chromatique

brings it about simultaneously. In other words, it stabilizes and makes visible a phenomenon that can only be captured momentarily and in very special circumstances. The color that appears is and is not — it has a virtual existence — however, it is as real as the pigments used. This is demonstrated by inductive yellow, which is obtained by superimposing black, blue, and white; inductive orange, produced with blue, yellow, and black; or the induction of red, by means of green, white, and black.

Based on these experiences with the phenomenon of retinal persistence, Cruz-Diez, also developed,

Douche d'Induction Chromatique

in 1965 and

Induction à Double Fréquence

in 1986.
Where Monet would represent the changing reality of light by using several canvases - of a haystack or a cathedral - Cruz-Diez only provides one surface, but one which is so sensitive to the intensity and the angle of luminous rays that it appears gay and bright one moment, severe and dark the next. With each variation in the electric or solar intensity, a new work is formed, a new chromatic relationship, unforeseeable like life itself, and as changing and varied. A thousand pictures - within a single surface.
Jean Clay – Carlos Cruz-Diez et les trois étapes de la couleur moderne, Jean Clay, 1969
Induction du Jaune série Nov 06
Paris, 2006
100 x 100 cm
Induction Chromatique SC3
Paris, 1993
60 x 90 cm
Private Collection
Induction Chromatique à double fréquence SCAD
Panama, 2017
Exhibition "Chroma" during "Untitled Art Fair", Miami Beach, United-States
2 x 11 m
Collection of the Cruz-Diez Foundation
Induction Chromatique Série Jorge Antonio B
Panama, 2011
60 x 60 cm
The Chromatic Inductions offer a solution in order to assimilate real space and time to a static plan. A chromatic event occurs in these works and continuously evolves depending on the spectator's position but also the changes of light, in contrast to nature and the purpose of the traditional painting space.
Cruz-Diez
Induction Chromatique EDR 5
Paris, 1975
60 x 60 cm
Douches d'Induction Chromatique
Panama, 1968/2012
Exhibition "Carlos Cruz-Diez. Circumstance and Ambiguity of Color", Henan Art Museum, Zhengzhou, China, 2012
Collection of the Cruz-Diez Foundation
Induction Chromatique N°214
Paris, 2016
80 x 80 cm
Cromovela Mariana
2015, Paris
Exhibition "Minimo", Château Saint-Maur, France, 2021
3 x 0,6 m